Frank Friction presents "Satisfied" – Produced By KURSER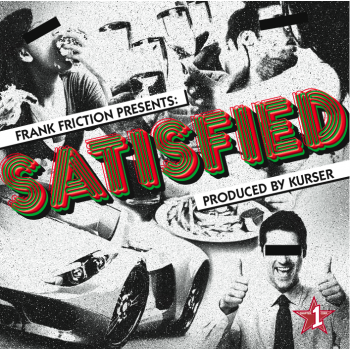 Bootie Brown's alter ego is busting loose!
Channeling his alter ego "FRANK FRICTION", Bootie Brown is releasing a fresh new single titled "SATISIFED" & Fresh off the SOLD OUT European leg of the TransCyde Express Tour Celebrating 20 Years Of Dedicated Pharcyde Delivery, and awaiting takeoff to stops in New Zealand and Australia, Brown is offering this new single for FREE in celebration of
and thanks to all of the people worldwide that come out to support him on the TransCyde Express Tour!
SATISFIED is collaboration between Frank Friction & Parisian producer KURSER. This song questions the passage of time and the moves and superficial purchases that people make to strive towards feeling satisfied. This single is released via Chapter 1 Records. This single is now available for FREE DOWNLOAD

Enter Your Name and Email Address for a Free Download
About The Producer:
Hailing from Paris, France KURSER has been on the scene as a producer and in the studio making beats since 1991. Deeply influenced by the music made in the 50's – 90's, Kurser utilizes his love of various musicians and sounds to create unique and genre bending tracks for the musicians he collaborates with worldwide. Kurser's beginnings included production and appearances on French LP's and underground mix tapes. Since then, he has produced many artists in France and worked with the likes of SCHKOONK, MC SOLAAR and ROHFF. His current projects include producing for US emcees FARRAH BURNS & K. SPARKS based in New York City, and FRANK FRICTION, also known as BOOTIE BROWN of THE PHARCYDE.
www.facebook.com/KurserSound
www.twitter.com/Kurser
www.soundcloud.com/KURSER
Get Caught Up On Frank Friction Collabo's – Mostly Free..ALL Hella Dope!
SO LA – Frank Friction

RIO – Kurser avec Frank Friction (production collabo)

FROM THE SOUL – Amiri Throwback Remix feat Bootie Brown

SASHIMI – Frank Friction produced by Jeff Wootton

FREAK FREAK – feat Moka Only & Bootie Brown produced by Mr Brady (Leftovers Vol 3)

TV DREAMING – Bootie Brown produced by Katalyst (Quakers)

GET DOWN – Jern Eye feat The Pharcyde (Original Remix)

RIDIN IN THE SKY – Unreleased Pharcyde

ROSKI – Frank Friction – Birdtalk

JERK JELLYFISH – feat De La Soul – Re:Heated by Frank Friction

FUTURE – feat UncleImani Tajai (Souls Of Mischief) Re:Heated by Frank Friction

STILL GOT LOVE – The Pharcyde / Pitchhitters

DEDICATION – The Pharcyde

DIRTY HARRY – Gorillaz feat Bootie Brown

Twitter: @FrankFrick242
www.FrankFriction.com
http://FrankFriction.BandCamp.com

Bootie Brown x FXpansion x GEIST

Check out Brown's artist profile by visting FXpansion


Download these Pictures